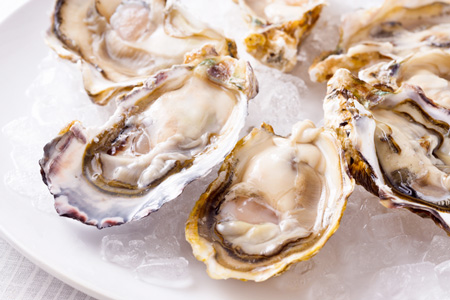 Working class food
It seems odd to modern foodies that Scottish oysters were once a mainstay of the working classes. A luxury item around the world in the 21st century, they were cheap and plentiful up until the beginning of the 19th. Roman soldiers consumed them while building the Antonine Wall in the second century, and Edinburgh was once famous for its oyster cellars.
Oyster pie!
Eaten in steak and oyster pie, or in pubs to soak up the ale, it was not unusual to enjoy oysters by the handful. Oysters and Guinness were a famous pairing across the water, but Scots tended to match them to almost anything.
Street snack
Many cities boasted barrels of oysters on ice, a street snack that it is difficult to imagine today. There is an old rule about only eating oysters during months with 'r' in the name, and this is partly due to the weather and likelihood that the oyster had spoiled during those hot summer days out in the sun. There was also a need to allow oyster beds to respawn during this time. Needless to say, there is no need to abstain today.
Scottish quality and taste
Oysters are one of the types of shellfish that take on the flavour of their environment, and we are lucky that in Scotland our waters are clear and cool, making our oysters juicy and delicious. They are cultivated in mesh bags on metal trestles on the sea floor, and it can take up to three years for an oyster to reach its full potential. With some species, it may take as long as eight years! This may seem like a lot of work, but it does mean that oysters are of an excellent, consistent quality. Scottish oysters are an affordable luxury, ideal for a special meal at home. Additions of Tabasco, shallot vinaigrette, or simple lemon should not be skipped, as they make the oysters sing.
References
https://www.scottishshellfish.co.uk/wp-content/uploads/2014/07/oysters-small.jpg
300
450
Jen Tervit
https://www.scottishshellfish.co.uk/wp-content/uploads/2017/10/SSMG-logo-495x191.png
Jen Tervit
2018-01-22 10:41:56
2018-01-22 10:42:19
A Short History of Scottish Oysters