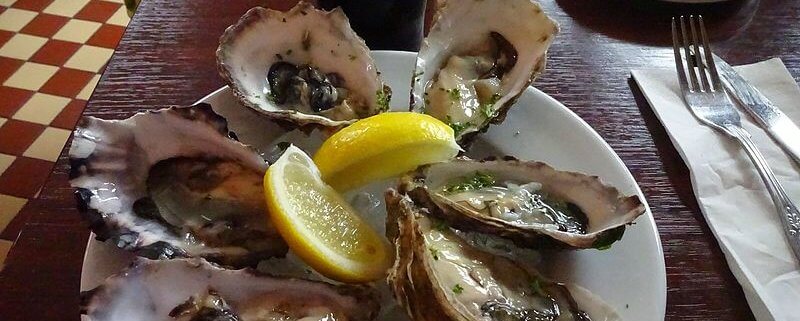 Scottish Shellfish and Guinness? With the exception of oysters, perhaps it's not the most obvious choice. But sometimes the most surprising combinations can be the most delicious…
Celtic connections
As St Patrick's Day looms, it's not just Celtic connections that we Scots and Irish share. We both have a long history of making the most of our natural produce, and exporting our proud traditions.
Guinness
One proud Irish tradition is the brewing of Guinness. Unless you've been living under a rock, there's no doubt you've heard of Guinness. Originally brewed in Dublin in 1759, it's the national tipple.  What you may not know is that (unlike other stouts or dark beers) Guinness is proven to have some health-giving qualities. The anti-oxidants it contains can help reduce blood clots and the risk of heart attacks.
A healthy and delicious combination
At a time when we're bombarded with ever-more confusing dietary advice, it's good to know that the health benefits of shellfish are also undisputed. Scottish shellfish and Guinness is a healthy and surprisingly delicious combination. So, why not push the boat out this St Patrick's Day and try it for yourself? You don't even need to go out to eat; there are lots of great shellfish recipes which you can wash down with a pint of the famous dark beer.
The ultimate fast food
Lots of people associate shellfish with high days and holidays. It's certainly true that a brace of fresh oysters, a feast of tangy brown crabmeat or the taste of world-renowned lobster are an undeniable treat. But the seas and sea lochs of our west coast give us an embarrassment of riches when it comes to shellfish. Which means you don't need to think of them only as a luxury, they're more accessible than you think.
And as shellfish by their very nature require minimal cooking, they are the ultimate fast food. Why not consider making them an integral part of your diet? There are lots of simple, delicious recipes on our website. Whether you want to cook mussels, oysters, langoustines, crab or lobster – you'll find something healthy, delicious and quick on our recipes page.
Unusual combinations
Don't be afraid to try some more of our unusual and delicious combinations. Mussels for example lend themselves to a surprising variety of beverages such as white beer, prosecco, and even gin and tonic.  We're continually adding to the recipes on our site, so check back every week for the latest combinations which are surprisingly easy to make.
Remember to drink responsibly. Happy St Patrick's Day. Cheers!
https://www.scottishshellfish.co.uk/wp-content/uploads/2018/03/Oyster_and_Guiness-e1521029095211.jpg
400
600
Jen Tervit
https://www.scottishshellfish.co.uk/wp-content/uploads/2017/10/SSMG-logo-495x191.png
Jen Tervit
2018-03-14 12:05:41
2018-03-14 12:05:41
Celebrate St Patrick's Day with Scottish Shellfish and Guinness!