Mussels are an under-appreciated wonder food. Full of vitamins and minerals, high in protein and low in fat.  It is a wonder these culinary stars are not more of a staple in the British diet. However, with more information about the health benefits of mussels than ever before, it's starting to change. Top nutritionists and fitness professionals have started to explore how the simple mussel boosts physical health.
Health Benefit 1 - High Protein and Low Fat
Seafood (shellfish in particular) is high in protein and low in fat. This is great news for anyone on a calorie restricted diet, as it shows it's possible to enjoy exciting meals that are healthy without sacrificing flavour. There is no need for fat, as steaming or boiling with a few herbs or white wine is the best way to prepare a tasty mussel dish.
Health Benefit 2 - Iron & Protein
For those who enjoy a high-protein intake, mussels offer a welcome break from steak. Not only are they better for the environment (as they are ecologically friendly and easy to farm) they also offer levels of protein and iron that rival that of red meat.  An increase in protein and iron intake boosts mood, energy levels, and even complexion.  A fantastic outcome from introducing mussels to your weekly diet!
Health Benefit 3 - High in Vitamins A & B12
Vitamin A is excellent for the skin, eyes and immune system. While B12 is an essential vitamin that only naturally occurs in animal products. B12 deficiency can lead to problems with heart health and anaemia, among other complications, and is important for overall health. Make sure you get the recommended daily allowance from dairy products, eggs, and, of course, sources such as shellfish and mussels.
Health Benefit 4 - Improves Brain Function
Mussels contribute to circulatory health and energy levels.  Are brilliant for improving brain function and reducing inflammatory conditions, such as arthritis.
Health Benefit 5 - Omega-3 Fatty Acids
The heart benefits from a reduction in the risk of heart attack due to those all-important Omega-3 fatty acids. Omega-3s are vital, and have all sorts of health benefits that should not be overlooked.
Why Mussels?
Mussels are one of the most well-rounded foods to include in your diet, high in zinc, iron and other minerals, vitamins A and B12. A fantastic source of protein, low in calories and low in fat. Prepared in a classic moules marinière or in a more adventurous Thai curry, or simply steamed. No matter how they are eaten, rest assured they are a delicious and healthy choice.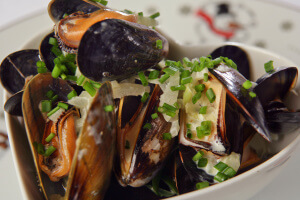 https://www.scottishshellfish.co.uk/wp-content/uploads/2015/10/mussels-in-water-e1503402959299.jpg
323
751
Jen Tervit
https://www.scottishshellfish.co.uk/wp-content/uploads/2017/10/SSMG-logo-495x191.png
Jen Tervit
2017-04-26 15:43:12
2017-04-26 15:44:54
What are the Health Benefits of Mussels?