It's the Scottish Food & Drink Fortnight from the Saturday 31stAugust until Sunday 15thSeptember 2019 and this year is special because they are celebrating 10 years of the fantastic fortnight that is dedicated to celebrating Scotland's larder. 
The Scottish Food & Drink Fortnight is about the Scottish farmers/producers, makers and retailers celebrating all that is amazing about our nation's outstanding food and drink products and the people behind them. The food and drink sector in Scotland is worth nearly £30b!
Not just Whisky & Salmon
Scotland is probably best known for its whisky and salmon but there is so much more to it than that, including some delicious and sustainable shellfish from our member farms situated in the pristine waters of the Scottish west coast and the Shetland isles.
Our member farms fuel and satisfy the demand for shellfish here in the UK and abroad, we have blogs from our farmers that can be read here, and you can see where our farms are located on our map of Scotland by clicking here.
Produce
Our mussels are grown on ropes suspended in the tidal currents and are deliciously plump and sweet tasting. Our produce is with our retailers as quickly as possible allowing it to be as fresh as possible and our member farms produce a range of shellfish including oysters, crab, lobster, mussels, langoustines, scallops to name a few. The following image is the journey of our mussels from the sea to your plate.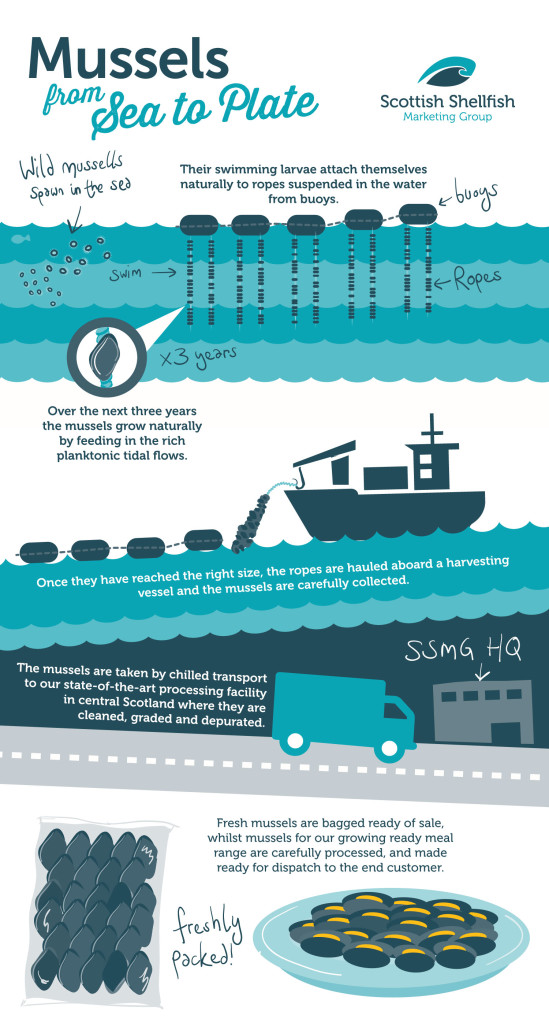 Get Involved
Get involved with #ScotFoodFort19 and tell us some of your favourite shellfish recipes, restaurants, farmers or what other Scottish products you like with your shellfish. Post on here, Facebook, Twitter, Instagram or LinkedIn.
Let's celebrate our wonderful Scottish larder.
https://www.scottishshellfish.co.uk/wp-content/uploads/2019/09/Twitter4.png
512
1024
Jen Tervit
https://www.scottishshellfish.co.uk/wp-content/uploads/2017/10/SSMG-logo-495x191.png
Jen Tervit
2019-08-31 15:19:35
2019-09-03 15:21:59
10 years celebrating Scottish Food & Drink