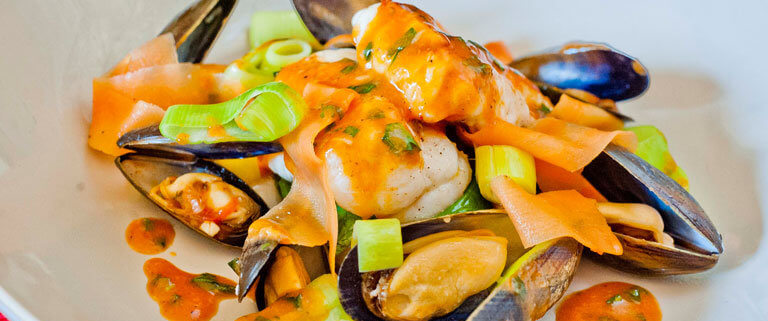 Did you know that Scottish rope grown mussels have one of the lowest carbon footprints around for any kind of protein production?
In this modern age where sustainability and low environmental impact are seen as essential components of modern food production, research has shown that one of the best foods for meeting such requirements are Scottish mussels
A report published by the Scottish Aquaculture Research Forum (SARF) in 2011 revealed that the footprint of Scottish mussels is around 19 times less than found in beef production. The report concluded that mussels can justifiably be promoted as a low-carbon food.
These environmentally friendly credentials were backed up in a later BBC Horizon programme where presenter and food science expert, Dr Michael Mosely described Scottish rope grown mussels as "one of the most efficient and tasty forms of animal protein in the world".
The reason why this should be so is easy to see, given the natural growing techniques used in mussel production. Young mussels (as free floating larvae or spat) settle naturally on the suspended ropes and then grow by feeding on sea plankton found in the rich tidal flows around Scotland.
https://www.scottishshellfish.co.uk/wp-content/uploads/2017/03/Monkfish-with-Mussels_-Leeks_-and-Courgettes_2.jpg
578
768
admin
https://www.scottishshellfish.co.uk/wp-content/uploads/2017/10/SSMG-logo-495x191.png
admin
2017-03-08 14:57:30
2017-03-08 15:00:17
Why Scottish mussels are more environmentally friendly than ever!