Posts
https://www.scottishshellfish.co.uk/wp-content/uploads/2019/03/Oysters-with-chilli-ginger-and-rice-wine-vinegar-Image.jpg
574
430
Jen Tervit
https://www.scottishshellfish.co.uk/wp-content/uploads/2017/10/SSMG-logo-495x191.png
Jen Tervit
2019-03-14 10:59:05
2019-07-04 17:50:22
Oysters with Chilli, Ginger & Rice Wine Vinegar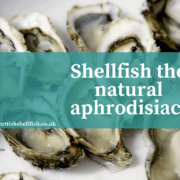 Casanova's breakfast choice
Valentine's Day is upon us!  Now is the time to plan a special meal that will tantalise your loved one. Oysters the well-known aphrodisiac, purportedly increasing the libido of all who eat them. In fact, Casanova is said to have started his day with 50 of these delicious bivalves! But did you know that plenty of other shellfish have the same sexy quality?
Shellfish the natural aphrodisiac!
A true aphrodisiac, increases sexual potency in men and desire in women.  With some cultures claiming that they also contribute to improved fertility. While all claims to unparalleled desire must be taken with a small pinch of salt, there is indeed truth to the idea that oysters and other shellfish are good for a boost.
Power of Zinc
Help comes in the form of zinc, in which oysters, mussels, and other molluscs are particularly high. Low levels of zinc can contribute to diminished libido, as can low levels of testosterone. Zinc triggers the release of testosterone in each sex, which will give both men and women that burst of energy they are looking for on February 14th!
Spoil your other half
Even without the chemical evidence, there's something to be said for preparing a tasty meal and surprising your partner. Delicate flavours from the best sources in the world, can't fail to earn you brownie points.  Cooking a treat of a meal for your lover is better than serving up all the outlandish aphrodisiacs in the world.
Valentine recipes
Half a dozen oysters, freshly shucked and served with a squeeze of lemon, or a dash of Tabasco if you like it hot; lobster with lashings of butter; a bottle of crisp white wine, all taken by candlelight and soft music playing in the background. Now that sounds like the ideal way to show your other half just how much they mean to you, and any nutritional benefits are just a happy plus-point.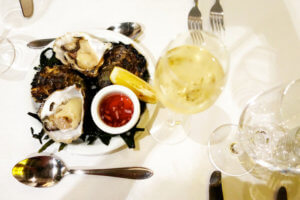 /
by Jen Tervit
https://www.scottishshellfish.co.uk/wp-content/uploads/2018/02/Oysters-are-a-well-known-aphrodisiac-BP.png
768
1024
Jen Tervit
https://www.scottishshellfish.co.uk/wp-content/uploads/2017/10/SSMG-logo-495x191.png
Jen Tervit
2018-02-12 15:28:58
2018-02-12 15:33:08
Oysters the well-known aphrodisiac!
It's hard to believe that oysters used to be considered a peasants' food. Barrels of ice and freshly shucked oysters were to be found on London street corners, and pubs served them up with pints as a snack.
Cheap and sustainable
The reason for the popularity of these tasty bivalves was the low-price point, a result of the ease in which they grow naturally. As filter feeders, they help to keep the water around them clear and sweet.  Meaning that even the farmed variety are sustainable and ecologically sound.
The Oyster, An aphrodisiac?
As popularity increased, so did the price.  This meant that often they were a treat enjoyed on special occasions. The reputation of oysters as an aphrodisiac grew, and they began to be associated with Valentine's Day.
While there are no special qualities that are specifically good for this sort of celebration, oysters contain plenty of zinc.  Zinc is an energy booster that creates a feel-good mood, thus the connection between oysters and amore!
Other health benefits
Oysters (along with most other shellfish) are also high in iron, selenium, calcium, and vitamins including A, C, and B12.  Which means that including a couple in your weekly diet is one of the easiest possible ways to make sure you get your recommended dosage of health boosting minerals and vitamins.
Oyster serving suggestions
Low in calories and fat but high in protein, oysters should not continue to be relegated to the starter menu.  A dozen just-shucked oysters sprinkled with tabasco, mignonette, or simple lemon is a sure-fire way to get the taste buds tingling and satisfy hearty appetites. For those that prefer their molluscs warm, serve them grilled with butter and cream for a fulfilling option.
The delicate flavour of the sea comes through no matter what your favourite method happens to be. What's more, oysters can be paired with a deliciously crisp white wine or a sturdy stout. Easy to prepare, a friend to all accompaniments, and healthy beyond belief.
Oysters really are the wonder-food that has been right under our noses all this time!
/
by Jen Tervit
https://www.scottishshellfish.co.uk/wp-content/uploads/2017/06/9_year_old_Johnnie_and_the_shucking_boss._He_is_also_a_padrone._For_four_years_he_has_brought_these_people_from..._-_NARA_-_523419-1.jpg
1073
1500
Jen Tervit
https://www.scottishshellfish.co.uk/wp-content/uploads/2017/10/SSMG-logo-495x191.png
Jen Tervit
2017-06-26 11:36:42
2017-06-26 11:36:42
Oysters for the poor!